Whether you're from New York, Chicago, or anywhere else, we all have our go-to pizza joint when the craving hits! But what do you do when you're on vacation and you need that melted cheese, crispy crust, and delicious red sauce ASAP? If you're on Hilton Head Island, these are the places you go (or for some, even call and have delivered to your rental property!)
Giuseppis:

This is a Hilton Head Classic with a pizza recipe straight from Pittsburgh, Pennsylvania. Locals and visitors alike know the name, and the location is so easy for our Beach Properties guests. You can call in your order for a few of their amazing pizzas, or even try a "Weggie", which is like a sandwich wrapped and baked in their handmade pizza dough (pictured). Trust us, its great. Even better is the discount you receive for being a Beach Properties guest! If you show your BP Advantage Discount Card, you will receive 10% off of your bill!
Dough Boys:

Dough Boys is our go-to pizza delivery when everyone in the office's stomachs start to growl. Between pizza, chopped salads, and subs, you can't go wrong trying to please everyone. They even have a build your own pizza option that will make any picky eater happy! We suggest Jen's Boom Boom Barbecue pizza, or the classic Mag's Margherita. By being our guest, you also get the exclusive BP Advantage Card Discount of $5 off of any order of $30 or more! So call them up and have some awesome pies delivered right to your vacation property with a sweet discount from us!
Fat Baby's: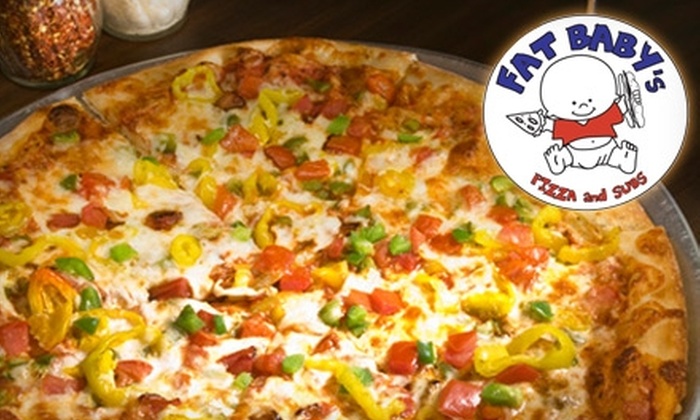 Don't let the name of this pizza spot deter you, Fat Baby's is the place to be! They recently moved to a new location with a wonderful outdoor seating area and that combined with their fun and delicious pizzas is enough to sell me on it! When you walk around the island you may notice the Fat Baby's logo on t-shirts everywhere– almost rivaling the Salty Dog t-shirts! There's a reason people love this place so much, between their awesome subs, and crazy good pizzas, you can't go wrong. Plus, as our guest take 10% off of your food bill when dining in with you BP Advantage Card!
________________________________________________________________
Let us know what you think of our top 3 pizza joints, if you visit! And don't forget that Advantage Rewards Card– you are a VIP in our book, and deserve your own discounts in tons of places, check out of Advantage Rewards page to see what other discounts you can take advantage of as our guest!