Are you like me and sometimes have way too many bottle caps lying around? Either they are thrown away, or get turned into a craft. This Christmas, the craft in my house are bottle capped snowmen. Here's what you need:
Supplies
3 bottle caps (cleaned of residue)
any colored yarn
ribbon
acrylic paint
permanent marker
orange scrap paper
hot glue
Paint both sides of the bottle caps with several coats of white acrylic paint. Cut a little triangle from paper and glued it on one of the bottle caps as a nose.
Use the black marker to draw eyes, a mouth and buttons.
Cut a piece of yarn and tie a scarf on your snowman. (It really is up to you on how you want to embellish your snowman).
Glue a piece of looped ribbon to the back of the top bottle cap to hang neatly from your tree or anywhere else to spread the Christmas cheer!
Frosty the Snowmen is out,  and Olaf is in…well according to my kids at least. This Christmas instead of Frosty, we had to find a way to make Olaf. Thanks to One Creative Mommy, we found an easy Olaf with supplies around the house. Here's what you will need:
Supplies
1 sock
Approximately 1 1/3 cups of rice — any kind (for larger socks, use more rice)
2 1-inch white pom poms
Orange felt — just a small piece
Large googly eyes (mine are about 1 cm in diameter)
Adhesive-backed black felt–one sheet of sticky-backed felt is enough for 12 snowmen.
3 clear hair elastics.  (I used goody brand, medium size.  They come in tiny, medium and large sizes.)
Hot glue gun and glue
Getting Started
Pour just under 3/4 c rice into the bottom of the sock, and squeeze and shake it down until you have the shape you want for Olaf's bottom.  Make sure that the top of the sock is centered in the middle.
Using a clear hair band, secure sock tightly just above the rice.
Pour just over 1/8 c rice into sock, squeeze and shake down the rice, and secure with second clear hair band.
Pour a little less than 1/2 c rice into the sock, , squeeze and shake down the rice.  Shape the head so that it is taller than it is wide, and secure with third clear hair band.
Starting where the middle section touches the bottom section, secure the ball with hot glue so that Olaf keeps his shape.  Repeat where the head and middle ball touch.
Starting with the mouth, peel the backing off the felt pieces (one at a time), and stick them to Olaf's face and body.  (I did not provide a pattern for the nose, but any old triangle-ish shape will do!)
Glue the nose and eyes on with hot glue.
Don't forget his trademark eyebrows!
Add the arms and feet (white pom poms).
Don't forget the hair!  *Be sure to attach it at the bottom of the elastic hair tie, or it will look like it's floating.  (You'll see some floating hair in the picture of the kids' finished Olafs.)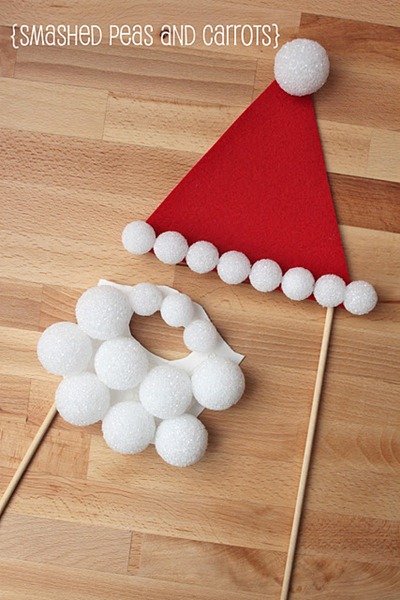 This one is my favorite. Fun to make and keeps the kids entertained. Just be prepared to take LOTS of photos 🙂 Here's what you need: (this will make only one, will need more supplies depending on how many Santas want to run around)
One sheet white cardstock
One sheet stiff red felt
1 package 1 1/2″ STYROFOAM™ Brand Foam Balls (12 count)
1 package 1″ STYROFOAM™ Brand Foam Balls (16 count)
Hot glue gun with glue sticks
Scissors or x-acto knife
2 wooden dowels
First, lightly trace the shape of a beard and a mouth opening onto the white card stock. Cut out using a pair of scissors or and x-acto knife.
Heat up your hot glue gun and place just a dab of hot glue onto one 1 1/2″ STYROFOAM™ Brand Foam ball at a time.
Place each STYROFOAM™ Brand Foam ball onto the card stock and let cool and dry. Try to fill up your card stock beard as much as possible!
Once cool, flip the beard over and place a few dabs of hot glue onto the backside. Press one end of a wooden dowel into the glue, let cool and dry.
For the Santa Hat, cut out a triangle from the sheet of stiffened red felt.
Using the 1″ STYROFOAM™ Brand Foam balls, place dabs of hot glue onto each and press onto the bottom edge of the hat forming the white brim.
ake one of the remaining 1 1/2″ STYROFOAM™ Brand Foam balls and hot glue it to the tip of the hat forming the little white puff ball tip that is classic to Santa's hat.
Let the hot glue cool and dry and then flip the hat over to the backside to add the wooden dowel via a few dabs of hot glue.
Once the dowel is set, your Santa Disguise is ready to play with, hooray!
Make sure to check out these last minute Holidays ideas for your visit to Hilton Head!